we're not you're average recruitment agency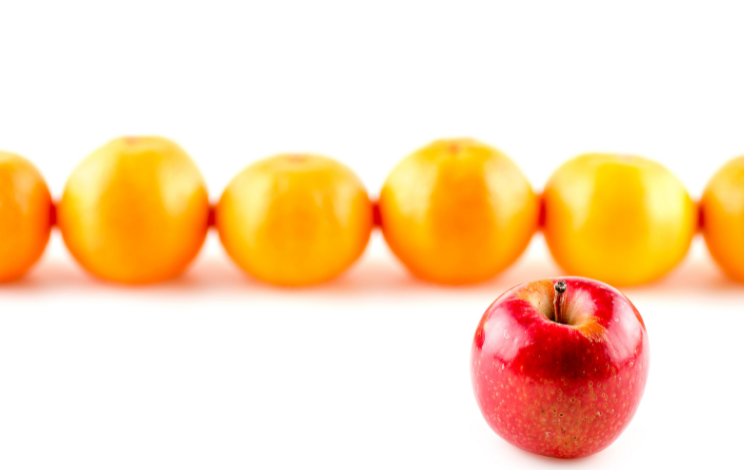 17/08/2021
By Chris Andrews – Director and Head of Advisory
Stone's Director explains why it's like comparing apples and oranges
All recruiters are the same, aren't they?
I have a friend who is a CEO, and we were talking about recruitment last week. His company is UK based and they have just engaged a recruiter. When I mentioned that Stone is different, he said, 'No offence, but aren't you recruiters basically all the same?'.
This took the wind out of my sails a bit as I have spent several years trying to provide a real alternative to mainstream recruitment, and I think we are very different. His comment highlights one of the problems we face at Stone, which is that the market lumps us all in together – as soon as you hear the phrase 'recruitment', the preconceptions kick in.
So, I'll try to explain what we do differently below, and I hope it helps!
A different starting point – our vision
Most recruiters have a vision of being the number one specialist in one/several skills, such as digital marketing, finance, HR etc.
Our vision is to make our clients as awesome at consistently hiring great people as they can possibly be.  
That's it. Simple really. We don't focus on a niche skill area, nor do we focus on one level of role. It's about the entire chain from your strategic direction through to onboarding new people, and everything in between. Our focus is your company, where you are on your journey to being amazing at hiring on a consistent basis, and the gaps where we need to help.
Our service offering
To make our clients as good as possible at hiring consistently, we focus on 4 key areas – workforce planning, recruitment delivery, employer branding and recruitment process optimisation. This allows us to look at the 'supply chain' in smaller chunks, and dig into the why, what, how, when where and who questions separately. Some clients don't want or need help in all areas so we can tailor the service accordingly.
As you can see, recruitment delivery forms part of what we provide, as clients often lack the resources internally for hiring, but it is only one part of an ecosystem of services. Our ultimate goals is to teach the client how to fish, but we will catch some for them as they are learning the ropes!
How is it delivered?
In order to deliver the above services, we adopt a more consultative and collaborative approach, as there is a significant investment of trust required from all parties to move away from the usual recruiter relationship. We provide our services on a monthly retainer basis combined with reduced recruiting fees, resulting in lower overall fees for our clients. Despite the reduced fees, we benefit because we are not competing with other recruiters 95% of the time, so our hiring is more efficient.
How does it work in practice?
Ironically, after everything I've said above, most clients call us in the first place because they need help with an urgent hiring situation, which we can support through our recruitment delivery team. This often rolls into multiple positions with a weekly status report around recruitment delivery. From there I will begin a separate monthly catch up with key members of the leadership team around planning their workforce, building their employer brand and improving their processes, using insights from the Stone delivery team as part of the source data. Each month and quarter we will focus on new initiatives in parallel with recruitment delivery, with the goal of making the overall approach better every month.
Who is it for?
This offering is really aimed at growth companies, with a focus on people, who are lacking the internal resources to deliver. Companies can only get so far having someone internally placing ads on Seek or LinkedIn. Engaging a full team with a scalable ecosystem spanning strategy to onboarding from 5,000 and 50,000 feet is a different proposition.
Often the CEO, COO or HRD in a business really appreciates being able to call us and just unload around all areas of people and growth! For them, it is like having a corporate sized team of experts on demand at any time.
Sound interesting? Contact us today and get started on your way to becoming awesome at hiring!
BACK